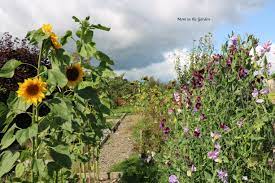 Now that the clocks have moved forward an hour, this gives us more time to spend in the garden and there is plenty to do at this time of the year.
Prune back Forsythia to young shoots and winter flowering heather as the flowers subside. Summer flowering bulbs in your beds and containers should be sown now and sow your flower seeds, ready for planting in June. Last years hardwood cuttings can be sown, moving lily pots into the borders as they flower. To sow Sunflowers directly out doors in April ,Sow thin 12mm drills that are about 30cm apart, ensuring that the soil is well-cultivated. Germination will take about 10-21 days. To sow your sunflower seeds into pots, ready for your garden borders. Sow in late winter or early spring for earlier flowering . Sow individually into 7.5cm pots at 20-30C. when well grown. gradually acclimatising to out door conditions before planting out when risk of frost has abated.
Direct sow your sweet peas outdoors directly into drills at a depth of 2.5cm and a distance of 7.5cm apart, pinching out the growing points of each stem, when the second set of leaves have opened. This will encourage thicker bushier growth. In spring, plant out sweet peas at a distance of 23cm in any well drained soil and in full sunlight. You can train the stems to grow on frames or trellis to direct the growth pattern. For sowing seeds and other tasks that require you to be able to feel, CSM Nitropalm gloves and Showa Floreo 370 gloves are the ideal gloves to use as they protect from soil and dirt, but also give excellent dexterity.
Sweet peas will grow to a height of approximately 20cm, with a spread of about 30cm and they embrace the full spectrum of colours and have a beautiful fragrance.